Early Days/Majesty
Kevin Moore was born on May 26, 1967, in Kings Park, a suburb of Long Island, New York. He started learning the piano at the age of six and wrote his first song by the age of 12. As a teen, Moore played with two short-lived bands – Crystalbeast and Sidewinder – before joining his childhood friend and guitarist John Petrucci in a band called Centurion.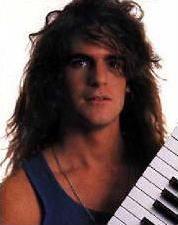 After graduating high school in 1985, Moore enrolled at SUNY Fredonia in upstate New York to study classical music. Following one semester of college, Moore was asked by Petrucci to join his new band Majesty – which later became known as Dream Theater – with bassist John Myung. Petrucci and Myung had already recruited fellow Long Islander Mike Portnoy to play drums during their short enrollment at Berklee College of Music in Boston. Singer Chris Collins handled vocal duties.
Moore played with the band during Christmas break and subsequently left college to concentrate on the group full-time that summer, adding keyboard parts to songs that had already been written by the band. After adding former Franke and the Knockouts member Charlie Dominici as the band's vocalist and playing shows around New York, Dream Theater was signed by Mechanic Records, a division of MCA, in 1988. For additional income, Moore gave private music theory lessons out of his parents' basement.