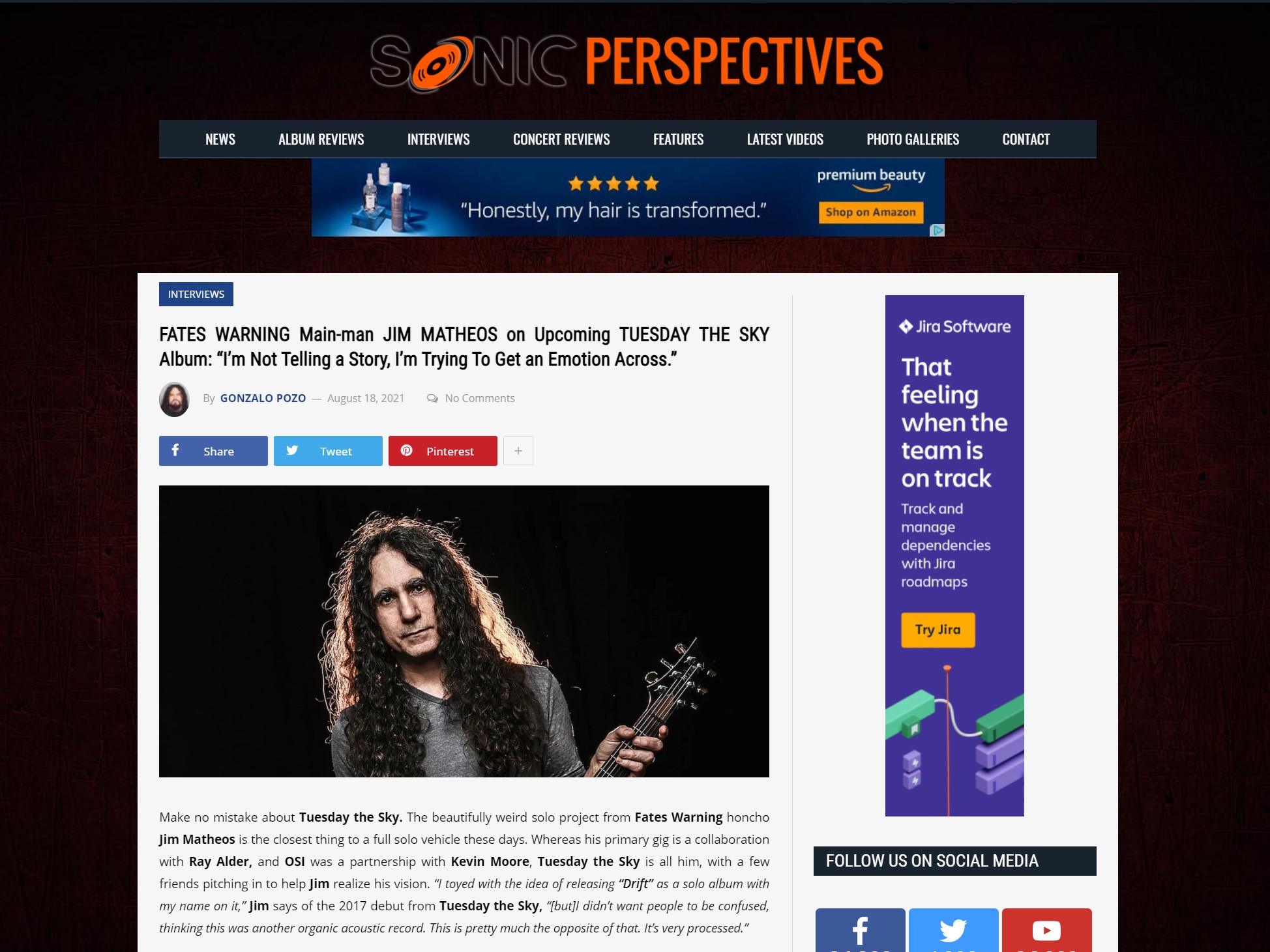 Jim Matheos on Kevin Moore: "I've always loved his sounds"

Aug. 18, 2021 - Fates Warning and OSI guitarist Jim Matheos recently praised the playing of Kevin Moore.
The legendary axeman shared the thoughts in an interview this month promoting Tuesday the Sky's new album, The Blurred Horizon, with the music website Sonic Perspectives. The album will be released by Metal Blade Records on Sept. 3.
In the interview, Matheos was asked if working with the keyboardist pushed him a direction that resulted in the "vibe" of Fates Warning's A Pleasant Shade of Gray and Disconnected albums in 1997 and 2000, respectively. Moore appears as a keyboardist on both records.
"Certainly more with OSI than 'A Pleasant Shade of Gray' or 'Disconnected,'" Matheos said. "But no, not really. He definitely had his stamp on those records, but he played what I had written for the demos. I had a guitar synth at that time, so I'd do a lot of demos using that, and his job was to come in and basically humanize those parts, play them as a keyboardist, rather than as a guitar player. I've always loved his sounds. And he'd come up with the great sounds and invert things, find different ways to make the parts sound more like they were written by a keyboard player. He did bring a lot of input, especially on 'A Pleasant Shade of Gray.' A lot of those parts weren't there when on my original demo. So he definitely brought his own input to it, but I wouldn't say it influence me until we got to OSI. In that case, we started doing a lot of recording digitally together, and it really opened up a lot of possibilities for me, what was available to do technologically. And like I said, starting to experiment a little bit with keys and different software.
To read the full interview, cli
ck here
:

https://www.sonicperspectives.com/interviews/interview-with-jim-matheos/?fbclid=IwAR0bGNv_IFZEFuFftDAU61Ddl77L5iRY80nWOPoPLU7-Cs-aeAiq_l-gigM
"Drift" comes with cover artwork created by Jan Tomic and will be released as special edition CD, black LP + CD & digital download. Here is the album's track-listing:
will be released as special edition CD, black LP + CD & digital download.