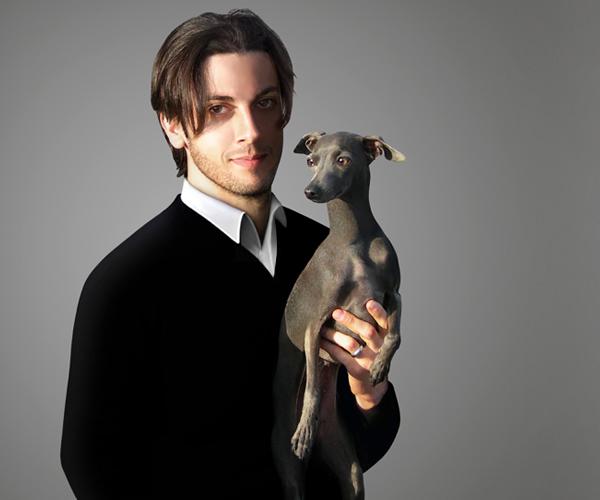 Interview with Alessandro Falca - (July 1, 2011)
Alessandro Falca is a Sweden-based graphic designer best known among Kevin Moore fans as the artist behind Moore's 2010 album Shine, the soundtrack he made for the 2006 Turkish film, "Küçük Kiyamet." Falca has also worked with Finnish avant-garde metal band Aarni and is currently working on the artwork for the upcoming EP of experimental rock band In Progress. Moore provided backup vocals and production for the In Progress EP.
Q: For those of us who weren't familiar with you before Shine, how would describe yourself? Where did you grow up and how did you get involved in art?

AF: I grew up in Italy, and I have been involved in art as far as I can remember. My mother is an artist as well. I remember always being around her as a kid deeply fascinated by her creations, which I tried to reproduce by drawing.
My enthusiasm hasn't changed since then, probably I brought it to the next level. I tend to follow my inspirations wherever they might lead me. I guess pretty far this time since at the moment I live in Kiruna, the most northerly city in Sweden, above the Polar Circle!
Q: Where did you study and what were some of your early jobs in the industry?
AF: I studied Applied Art and Interior Design first. Later on, I graduated in Architecture specializing in Interiors and Furniture Design. I started my company as a jewelry design firm, but my many interests eventually led me to expand my operative field.
Q: Have you done artwork for musicians before Kevin? Can you name any bands or artists you have worked with?

AF: The first artwork I realized through my company Conte di San Pietro was for Aarni, an avant-garde doom metal band from Finland which happens to be my favourite band!
The record is scheduled for release sometime in 2012 and titled Lovecraftian. As you might guess from the title, it's a concept album about the American writer H.P. Lovecraft.
This artwork features a completely different style from the one I used for other releases, Shine in primis. I would describe it as monumental, with very elaborate illustrations alongside a 30-page booklet.

Q: How did you meet Kevin Moore and how did the opportunity to work with him arise?

AF: I discovered about the release of Shine almost by coincidence. I thought it was an interesting project and the demo songs I had the chance to listen to left me amazed. I remember putting down ideas on my sketch pad almost immediately.
Kevin was quite impressed by some of my previous artworks, and he liked the ideas I had for the visual aspects of Shine. That's basically how I got involved in the project.

Q: So Kevin stumbled across your work and sent you an email? Since you live in Sweden, it's probably safe to say you and Kevin have never met.
AF: Exactly, me and Kevin never met in real life. As you guessed, he stumbled across my (still unpublished) artwork for the album Lovecraftian, which he liked very much.
Q: Were you already familiar with Kevin's music before working with him on Shine? What are some of your favourite songs and albums from his career?

AF: It might sounds unnecessarily flattering for me to say that Kevin Moore is among my top ten of favourite artists. I knew about his solo career after the period with Dream Theater, but it took some years before I actually had the chance to listen to something. I think it was a song from Dead Air For Radios.
My favourite album? Well, every Kevin Moore or Chroma Key album has its own vibe which I can relate to different moods, memories or periods of my life. That's why it's quite difficult for me to pick up one in particular.
Let's say that I like You Go Now very much, which makes the choice of my favourite song even harder. Perhaps "Another Permanent Address" might be the one.
Lately, I rediscovered Graveyard Mountain Home as well. It's a very enjoyable record.
Q: Tell us about the artwork and album design for Shine. What is the concept and how did you get the idea?

AF: I wanted to create something connected with the movie without turning it into a movie poster. You see, my statement for the artwork release at Kickstarter was: "…creating something with its own heartbeat, with several interpretations on different levels." That wasn't just hype.
You can conceptually divide the front cover in three different moments: Life, Death and what lies between. Life is symbolized by the Sea. The white pattern I created it's not only meant to look like a mass of moving water. It's, as a matter of fact, threads. I got inspired by Greek mythology and the figure of the three Goddesses of fate, called Moiræ. They were believed to control Life and Death of every single mortal, represented by a metaphorical thread. So the threads in the artwork represent human lives, linked to each other in unpredictable ways.
The boat represents what's between Life and Death. A journey between the two if you prefer, something which might take a second or a little longer, as experienced by the characters in "Küçük Kiyamet."
And then there are the Stars, as the song goes: "So high above, so long ago…"

Q: How much input did you have in the artwork? Did Kevin pretty much have the concept planned out, or did he let you do your own thing?

AF: Me and Kevin both agreed on creating something visually based on the Shine video, the one featured at Kickstarter with the boy on the boat. But I had complete freedom while developing the concept behind it.
We discussed on the phone mostly about technical aspects and such. There were different versions to choose from and different graphic solutions as well.

Q: What kind of computer software or materials did you use to create the artwork for Shine?

AF: For my artworks I generally use traditional techniques such as drawing and painting blended together with 3D modelling and advanced photo manipulation.
But it's something really depending on the artwork itself. For Shine, I adopted the motto "less is more," which paradoxically required much more time then usual!
Q: Tell us how you created certain parts of the artwork, such as the cracked sun, the water and the stars?

AF: Considering the Penguin Books style we followed, the technical execution for the Shine artwork had to be very simple and direct on its message. Most of the elements, such as the water pattern for example, were hand drawn. I think the only "special effect" is the crack in the Sun, which is instead a real picture of a cracked wall.
Q: Also, can you explain the small dog in the top left corner of the album cover?

AF: Ah ah, yes, the dog! I couldn't imagine this becoming so confusing for so many. I've actually been reading the strangest theories at Kickstarter.
I'm going to reverse the question: what does the dog represent for you?

Q: A lot of us have the Shine posters displayed in our bedrooms or apartments now. How does it feel to know that something you created is really loved by fans and on display in our homes?

AF: It has been absolutely flattering reading all those positive comments at Kickstarter. I have framed mine as well.

Q: What are your thoughts on Shine's songs and the Turkish film "Küçük Kiyamet"? Any favorite moments?
AF: Shine is a very good soundtrack of a very good movie. You can't separate the two things. I must confess that I shed a tear or two during the slow-motion earthquake scene, the one featuring the title track.

Q: Tell us about your company, Conte di San Pietro. What kind of work does the company do?

AF: I moved to Sweden in 2008, and I founded my design company named after my family coat of arms. Conte di San Pietro translated from Italian means, in fact, Count of Saint Peter. I consider myself a designer at 360 degrees and working with my own firm gives me the possibility to develop projects that reflect my interests and passions, from architecture and interiors to graphic design.

Q: What are you working on right now?

AF: I just realized an art suite at ICEHOTEL in Jukkasjärvi, Sweden, the world famous hotel made of snow and ice! The building process took from late November until mid-December 2010, a huge amount of work concentrated in a very short period of time. The artwork for Shine was completed shortly before that, and I actually worked under a sky resembling the one in the artwork, millions of stars shining high.
Concerning upcoming artwork projects instead, I'm developing the graphic for a band called In Progress and their upcoming album titled North Atlantic Echoes. Kevin Moore appears on this record as well, with additional production and programming.
At the very moment, I'm developing an architectural project which I'm afraid I have to label as top secret.
Q: Yes, In Progress recently announced that Kevin worked on their upcoming EP. Did they contact you after seeing your work on Shine? Can you give us any hints on what the artwork might look like for In Progress?
AF: Actually, I have to thank Kevin for recommending me! Working for In Progress has been awesome. I wanted to create something a la Nine Inch Nails for a long time, and I finally had the chance. The artwork suits the introspective mood of the album, a collection of sensations while you are floating alone in an ocean. I have digitally manipulated some pictures I took some years ago while sailing around the Mediterranean Sea.
Q: Have you heard any of their new music with Kevin? What did you think of it?
AF: I had the chance to listen the demos for North Atlantic Echoes. Kevin appears as a guest musician in some of the songs. Those guys are incredibly talented. The album is something I had in constant rotation on my playlist while working on its visual aspect. Musically, it's a giant step foward from their first album "Signal Failure," which it was quite good as well.
Q: Is it challenging to work with artists when they are located on the other side of the world, like Kevin and In Progress? What are the positives and negatives?
AF: Nowadays, the technology gives you the possibility to be on the other side of the globe and still being able to interact with everyone you want.
The only problem I had was actually with Kevin, I could hear that it was summer on the other side of the phone, while here it was probably 20 degrees cold, ahah!
Q: What achievement are you most proud of during your career?

AF: I can't really name one over another. I think it's a neverending process, a constant progression and self improvement as a designer and person.

Q: What kind of music do you like? What's in your CD player or iPod right now?

AF: I'm a big music listener and it might take hours to go through what I like or my music collection, which is dangerously overflowing from the shelves. Luckily enough, my iPod is quite empty so here you go with a short list:
Aarni – Bathos
Darren Hayes – The Tension And The Spark
Darren Hayes and Robert Conley – We Are Smug
Elton John – Madman Across The Water
Elton John – Rock Of The Westies
How to Destroy Angels – EP
It's Just Vanity – Here's What You Remember From A Coma
In Progress – North Atlantic Echoes (demos)
Nine Inch Nails –The Fragile

Q: Where can fans get more information about your work?

AF: Feel free to visit my webpage at www.contedisanpietro.com, which contains up-to-date news, projects and whatnot. You can also join my company page on Facebook. Thumbs up if you like what you see there!