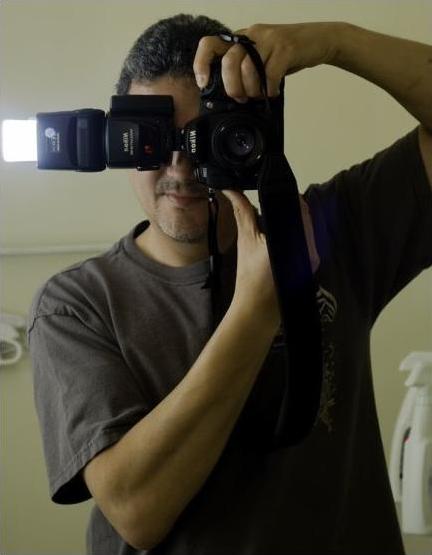 Interview with Bill Totolo - (Jan. 1, 2011)

Bill Totolo is a Los Angeles-based photographer that has worked with music acts including Lady Gaga, Weezer and Slayer. He was also a 1985 graduate of Kings Park High School, where he was a friend and classmate of Dream Theater founding members Kevin Moore, John Myung and John Petrucci and worked alongside Moore on the Radio Show club. Totolo is also creator of a fan video for OSI's 2003 song, "Standby (Looks Like Rain)."

Q: For those that don't know who Bill Totolo is, how would you describe yourself? Where did you grow up, and when and how did you end up in California?

BT: I grew up in Kings Park, New York, was influenced by the creative people around me, and eventually made my way into film school. Of course, my first approach was to get a degree in Finance and work at Citicorp for eight years until I saw John Petrucci on the cover of Guitar for the Practicing Musician [magazine] and realized I was living in a guilded cage. I enrolled in New York University and finally made my way out west to study at UCLA.

I've been living in Los Angeles since 1997.

Q: What does your job entail? How did you get involved in your line of work and where did you study?

BT: I'm a director of photography. I get to design the lighting and direct cameras for a variety of productions, (concert videos, TV commercials, broadcast television). I'm very lucky to be one of the directors of photography at AOL Sessions. This year, I've been very fortunate to work with artists such as Weezer, Lady Gaga, The Gossip, and so on. Actually, I'm looking forward to shooting Slayer on Nov. 20.

I've also been hired to shoot a documentary on the Fender Rhodes piano this year and have worked with such legendary jazz musicians as Chick Corea, Joe Sample, Stanley Clarke, Greg Phillinganes, and many others.

I began as a camera assistant. Interning at Panavision when I was 30 years old after having been an analyst for Citicorp for so many years was a very humbling experience.

Q: As a former classmate of Kevin Moore and John Petrucci at Kings Park High School in New York, what do you remember about them? Were they close friends?

BT: I could go on forever on this question. Kevin and John were great friends and so were their families. It was only a matter of time before these guys played in a band together. I think John really inspired us all to new levels. Not only in music, but in all our artistic and personal goals.

Q: In high school, Kevin's main extracurricular activity was the Radio Show and you were one of a handful of 1985 graduates to be a club member. What was the Radio Show and how often did you meet?

BT: That was some 20 odd years ago. As best I recall, it was an outlet for students to play music during lunch and maybe between classes. It would be fun to go back and listen to some of our playlists. I'm sure my "shift" was full of hair metal bands, but Kevin had much better taste than me at that point. I wonder what his early influences were. As I recall, there was some Fate's Warning and Yes in his repertoire.

Q: What was Kevin's contribution to the show?

BT: I'm probably not the best resource on this. I'm sure he played music, but I don't know what additional responsibilities he took on.

Q: Did Kevin seem to have a passion for music? What kind of music and bands was he into?

BT: Kevin was a great pianist early on. Anything popular he could perform flawlessly. I was blown away when he played me the intro to [The Who's] "Baba O'Riley."

Q: Wow! When and where did he play it?

BT: I believe it was in his parents' basement. Kevin would play something by John Lord [of Deep Purple] or copy a Black Sabbath riff every one in a while. We all tried to show off our chops to each other. Of course, I wasn't in the same league as Kevin, musically speaking.

Q: Regarding John Petrucci, was he generally known around high school as a guitar prodigy?

BT: John excelled at everything. When he began playing guitar, he gave up his other interests to concentrate on music. Then every few months he grew by leaps and bounds. You'd see Al Di Meola records in his bedroom. He'd play you these beautiful riffs he'd learned by ear. The thing about John is he's a well-rounded individual, well-spoken, patient and above all funny. He's got an intelligent wit that can be incredibly infectious.

Q: What about John Myung? Was he always a quiet guy?

BT: Interesting guy, that John Myung. I admire and respect him deeply as he is a truly gifted musician and a kind and gentle guy. I think of John as the kind of artist whose radar is very sensitive. You can't be anything but completely open and honest around John.

Q: As a former classmate, how closely did you and others follow Dream Theater's rise to fame? Was it exciting for hometown people to watch? Did you think they were destined for success?

BT: It was extrememly exciting for me and for the people I was hanging around with at the time. It was the same feeling as watching Zebra release their first album. We all loved them so much and wanted them to succeed on their terms, and they did.

Q: What is your opinion of those first few Dream Theater albums? Any favorite songs?

BT: One of my favorite songs of all-time is "Wait for Sleep," which incidentally was written by Kevin Moore.

Q: What do you like about that song?

BT: It feels like a soundtrack to me. It feels like the music is there to fit the lyric, and the lyric is there to support a daydream.

Q: Do you think John and Kevin's Long Island roots influenced their creativity at all? As a creative person yourself, do you ever feel inspired by your Long Island roots? If so, how?

BT: That's a tough question. So many creative people came out of our high school. Kings Park is a unique collision of blue collar and white collar worlds. I think somewhere in there, coupled with life in the shadow of a decommisioned pschiatric center the size of the one in Kings Park, made for some very interesting times. I think of this often and wonder how Kings Park, for a time, was like a little version of Liverpool.

Q: Did you ever see Dream Theater perform live at Long Island clubs? If so, when and where?

BT: I've seen Dream Theater perform many times in New York and Los Angeles. I have two very special memories. The first is when Dream Theater was playing at The Limelight back in the early 1990s. I actually won tickets from WBAB and drove into Manhattan with my girlfriend to see their sold-out performance.

The second is seeing Dream Theater perform at Los Angeles' House of Blues. John Petrucci spotted me in the audience and got me backstage. Very special. Add to that the fact that Kevin showed up to that performance. This was when Derek Sherinian was in the band.

Q: What did you and other childhood friends think of Kevin's decision to leave Dream Theater in 1994? Were you surprised or did you understand his need to express himself on a solo basis?

BT: To be honest, I was shocked. I remember speaking with John Petrucci about this and being unable to get any insight on this. It wasn't until I ran into Kevin and pressed him that I was able to get a sense of his decision. Kevin is a very private person, so let's just say he's an artist in every sense of the word and he made the only decision that was right for him.

Q: As a childhood friend, what you think of the band's post-Kevin music? Do you think it's better? The same? Did they lose a certain element of their sound when he departed?

BT: Let's face it. Dream Theater is incredibly adept at creating music on a level most of us only dream of. The musicians that have played with the band since Kevin's departure are amazing, but they have to be. Anyone in that position has to be at the height of his/her craft and Kevin is among those people.

Q: Have you followed his career since then? What is your opinion of Chroma Key and OSI?

BT: I really enjoy watching what Kevin is up to. He's an endlessly creative force. His work on Graveyard Mountain Home is incredible.

Q: It seems like you've also achieved some notable success in the entertainment industry. Who are some of your bigger name clients? What was it like to work with them?

BT: I'm blessed. My current roster of clients include Discovery Channel, Fender, AOL, E!, TV Guide, BET, and a few others. I've met everyone, and I don't want to sound glib. I often think of the fact that this awkward kid from Long Island gets to sit down with people like Stevie Wonder or Quincy Jones and get personal insights from such luminaries is all very surreal. And the fact that all the crew, writers, directors, musicians, make up artists and everyone involved is so passionate about what they do is very inspiring to me.

Q: What achievement or job are you most proud of during your career?

BT: The Lady Gaga performance I shot for AOL is their most viewed performance of all-time, and the Weezer performance I shot is number one this week. That means a lot to me.

I also have a very special place in my heart for the promo I directed for the Special Olympics.

Q: What other projects are you working on right now?

BT: I'm wrapping up the Fender Rhodes documentary, prepping a drum workshop DVD, prepping for Slayer, shooting at Disney's El Capitan tonight, and when I get some time I'd like to direct a few short films I've written.

Q: Getting back to Kevin, what kind of person was he as a teenager – funny, quiet, creative?

BT: A really giving and supportive friend. I appreciate having been able to grow up with a person like that.

Q: Tell us something about Kevin that most people might not realize.

BT: He turned me on to Ramen noodles.

Q: What is in your CD player or iPod right now?

BT: Good question! Believe it or not, I just bought the new Barbra Streisand CD produced by Diana Krall. I love it. Also, a friend from Long Island sent me the new Lynch Mob CD, just getting into it. The new Zero 7 CD is also in rotation.

Q: What websites can people visit for more info on your career and work?

BT: I have a blog that I occasionaly update: http://billtotolo.blogspot.com. Or you can paste my name into YouTube.
You also forgot to add a fan video: https://www.youtube.com/watch?v=BWxf8MDWQNk.