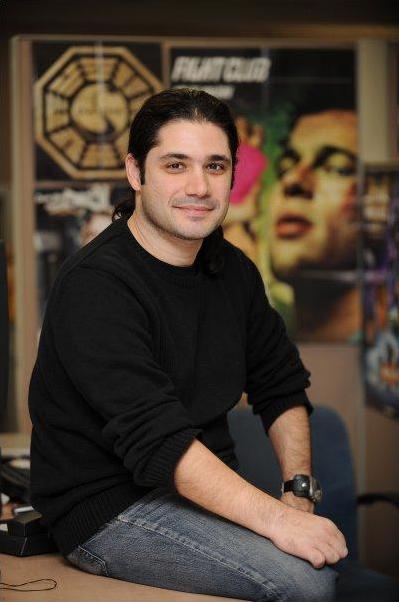 Interview with Dogu Yucel - (July 2, 2010)

Dogu Yucel is a Turkish writer and author of Hayalet Kitap (Ghost Book). The postmodern novel about an unrequited love was the inspiration for the 2004 movie, "Okul (School)," which features a soundtrack by Kevin Moore. He also wrote the script for "Okul" and "Küçük Kiyamet (The Little Apocalypse)," a 2006 film about a tragic earthquake that was also scored by Moore. Yucel is a longtime fan of Moore and Dream Theater.

Q: How did you get involved in writing? Where did you study and what were your early jobs?

DY: It's quite funny, but I got involved in writing just after I learned to read and write. I was writing childish super hero stories in my notebooks even in the first grade of elementary school. Then I had an education at The American College here in Turkey and we had American teachers who gave us homework to write some stories. That was the only homework I loved to do. Also, those were the years which I get to know authors like Ursula K. Le Guin, Shakespeare and Stephen King. And I was the editor of the school magazine. So writing stories was a part of my life even during high school.

Then I made a mistake and I found myself learning economics in a university. But that was never my thing. So I was writing stories in the economics lessons. Then I got some awards from some important story contests. And I understood that I could go on with this route and can publish books. And so in 2000, I published my first story book called Dreams, Nightmares and Future Tales, and in 2003 I published my first novel called Hayalet Kitap (Ghost Book).

Q: How long have you been a fan of Kevin? Why do you enjoy his music and what are your most favorite Kevin songs/albums?

DY: In 1992, a Norwegian friend of mine from an Iron Maiden fan club sent me the single, "Pull Me Under." The album hadn't been released at the moment. And there were songs from the first Dream Theater album in the recording. I loved "Pull Me Under." It was love at first listening. Then I found Images and Words. I hated it in the first listening, but after a while it became my favorite album of all time (except for the first seven Iron Maiden albums, of course). After Dream Theater, his work with Chroma Key, OSI and Fates Warning were all magnificient.

Why I enjoy his music? First of all, I think Kevin never plays anything just to play, just to fill that space. All the notes, even his fast solos in Dream Theater, always mean something. They all tell a meaningful story with a start and a finish. They are not so simple, but you can always hear them in your head, you can always remember them. It's hard to explain actually. My favorite song is, of course, "Space-Dye Vest." Either the Dream Theater version or Chroma Key version. It doesn't matter, it's an untouchable classic. That must be why Dream Theater never touches it by playing it live.

My second would be "Wait and Sleep," another Dream Theater classic which has Moore's signature all over it. Third is "Colorblind" from the first Chroma Key album. Other favorites are "On the Page," "Undertow," "Go," "Free," "Another Permanent Address," and from the last album, "The Escape Artist."

Q: How did you get introduced to Kevin and how did the opportunity to work with him arise?

DY: That's an unbelievable story actually. We were in the pre-production process of the movie, "Okul (School)." It was based on my novel and I wrote the script. Me and the directors, Durul Taylan and Yagmur Taylan were making a brainstorm about the movie's effects and other things. Then we started to talk about the soundtrack and the score of the movie. And at that time, we were trading CDs just for fun. I knew that the directors were into Porcupine Tree. I gave them the first OSI CD just before this day.

Anyway, when we were arguing about the score of the movie and trying to imagine what it should be like, suddenly Durul Taylan went to the tape, he put in a CD and said: "Our movie's music should be like this." It was an intro of one of the songs in the first OSI album. And then we had jokes about this idea. We were having fun saying, "Let's ask Kevin Moore to do the music like he can accept, hahaha." And at the time we didn't know where Kevin was. Just after this dialogue a friend of mine from the Turkish Dream Theater Fan Club called me. He said: "Just guess who is here?!" I said: "Who?" He said: "Kevin Moore!" I was in shock.

After I talked to my friend, I told Durul and Yagmur, "Kevin is here, he came to Turkey." They thought that I was joking. So after this weird incident I reached to his manager and I met with him. I was very excited. I knew that I wouldn't tell him the story in a proper way, so I wrote the story in a paper. I gave him the paper. He read it. And just after he read it, he said: "My hair stood on end." The rest is history.

Q: Tell me about Hayalet Kitap (Ghost Book). What is it about and what inspired you to write it?

DY: Hayalet Kitap is a postmodern novel about unrequited love. It starts with a boy putting something into a girl's post box. The girl (her name is Güldem) takes it, and notices that it's a suicide letter of Gokalp, who has been in love with her for a very long time. So the novel starts with a very long suicide letter. In the first anniversary of Gokalp's death, some weird things start to happen. After a while our characters understand that Gokalp is back in a ghostly way! This ghost is acting strangely, taking revenge with weird ways, some of them are really absurd. And there is this subtext like: "We must follow our dreams, if not our world becomes a nightmare."

Güldem has dreams about being a singer, but now she is educating at economics. So the ghost reveals and let her face with her dreams that she has pushed down for a long time. It's kind of a horror reflection of my life in university. I was in love with this girl and she wasn't answering. I was writing stories to her and put the stories into her post box. But nothing happened. She started to date with a snob guy. And I was studying something that I don't like.

I had other dreams like writing stories, writing movies, writing about music. So this novel came out. Its story may seem a little "youth book" or "Stephen King-esque" concept, but it's a very thick book with very interesting sub-stories in it. Got some bizarre influences from different styles such as Douglas Adams, Shakespeare, Bret Easton Ellis and Quentin Tarantino. There is a chapter written in a theater play way, it's a modern version of Macbeth. And there are parts which suddenly tells about the methods of cheating in exam.

Q: For those of us outside of Turkey, how successful did the book become and were you surprised at the attention it received?

DY: It's been published by a known public house here called Studio Image, which publishes mostly cult books like Irvine Welsh and stuff. And I can say that it became something like a cult book here. It made three prints and it's now sold out. Actually, I wasn't surprised to its success. To be honest, I was hoping for more. I'm not a confident writer, but I believe in stories and I think Hayalet Kitap has a very strong story. But the publisher bankrupt in the middle of its sales and couldn't make any commercials.

It has sold around 6,000 copies, but it really has some hardcore fans. When I make autograph days some people came from far away cities just to take a signature. And I still get emails about this novel and they say how the novel changed their lives and sometimes their love lives.

Q: How did the opportunity come about to turn the book into the movie, "Okul"?

DY: That has an interesting story also. Some readers of mine told me that this can become a good movie. So I narrowed my story to a one-page summary. I thought of Taylan Brothers, because they were the creators of the first Turkish science-fiction/horror TV series called "Sir Dosyasi." So I called a friend of mine to reach to them. While this is happening, Taylan Brothers are with a famous producer and they were talking about making the first horror movie of Turkey. And Durul Taylan read an interview of mine on a newspaper that day. And he says: "There is this guy who wrote a horror story about university, so what about him?"

After this meeting my friend calls them and says: "A friend of mine whose name is Dogu wants to meet with you, he has a story." Durul says: "Well we were thinking about that too!" So they read my novel and liked it. The producer didn't read the novel, but liked the summary. The rest is history.

Q: How much input did you have in the script? Were you happy with the finished product?

DY: I wrote all the script. This was my first long movie script so Taylan Brothers helped me in its technique. I wrote many drafts and changed a lot of things until the shootings. I was happy with the final draft and the first editing of the movie. But the producer has cut a lot of scenes and forced us to change a lot of key points in the movie. So I can't say that I'm happy with the finished product. It could have been something like "Donnie Darko," but with the interruptions of the producer it became a cheesy movie.

Also, the ending became so David Lynch-esque that it makes it a bizarre experience. But after all, this was the first horror movie of Turkey. Everybody in the movie sector of Turkey didn't believe in this project. So it was a risky project and it was one of the biggest blockbusters in Turkey. And now, every year we have 7-8 Turkish horror movies in cinemas. And before "Okul," nobody was shooting movies about young people, but now it's one of the biggest parts of our cinema "pie." So "Okul" was a turning point in our movie history. But I hope someday we can shoot it in a proper way.

Q: What were your thoughts on Kevin's music in the movie?

DY: I first thought that it was too experimental except some parts. But now I can't think of the movie without that experimental parts. It's a very unique and eclectic score. I think he added a emotional depth to our movie which we couldn't give because of the cuts and other interruptions of the producer.

Q: What was Kevin's songwriting process? Was there a lot of back-and-forth with producers or was Kevin all on his own?

DY: I didn't take part on that process. But I know that he worked with the directors Durul and Yagmur in a very friendly and a professional way.

Q: Tell me about the book, Küçük Kiyamet (The Little Apocalypse). What is it about and what inspired you to write it?

DY: Actually, "Küçük Kiyamet" is not a book. It's based on a short story which was written by Taylan Brothers. I wrote the script of that story. Taylan Brothers were inspired from the big earthquake that happened in Instabul and killed thousands of people in 1999.

Q: How successful did the movie become in Turkey?

DY: Critics loved the movie way beyond than we expected. I can say that it's "critically acclaimed." It was counted as one of the best Turkish movies of 2006. Some critics put it on the top on their top-ten lists, which features foreign movies too. So it was delight to see that. I think "Okul" can be such a movie too, but as I always said the producer was the wrong guy there.

Q: Unlike with "Okul," Kevin did not release a soundtrack for "Küçük Kiyamet." What can you tell fans about the music for that movie?

DY: I think it's a magnicient score, and I think it's a shame that it's not been released in Turkey or in foreign countries. Especially the part where the earthquake happens is a beautiful piece.

Q: In my opinion, the music for "Küçük Kiyamet" seems to fit more perfectly than with "Okul." Did Kevin's songwriting process differ this time around? Or was he simply more comfortable in the job?

DY: I think in every way we worked better for "Küçük Kiyamet." There were no interruptions to the script or the movie from the producer which made us know our next step better. Everything was under control so Kevin felt the movie more.

Q: My favorite scene is the earthquake scene where Kevin plays a simple piano melody. At first glance, it seems like that wouldn't fit with such a chaotic moment in the movie. But it really fits quite well. What are you thoughts on that moment?

DY: It's one of my favorite scenes in "Küçük Kiyamet." It was one of the first scenes that Taylan Brothers told me about. They were influenced from Peter Weir's plane crash scene in "Fearless" at that scene. I think with Kevin's music the scene became a very unique masterpiece in its own. It was the hardest scene to score and make a music about. But it was very easy to write it, Since it's in slow motion, I only wrote one paragraph and they made an art from it.

Q: Was Kevin nominated for any awards based on his work in "Okul" or "Küçük Kiyamet"?

DY: "Okul" wasn't taken seriously by critics. But the score of "Küçük Kiyamet" took a lot of people's attention. It was one of the canditates of SIYAD Movie Awards, which were given by the movie critics. It couldn't win, but the movie did gain a supporting actor award. Also, our supporting actor Ilker Aksum won other awards for the role he did in this movie which no one can argue. He was really great.

Q: Tell us about Kevin adapting to Turkish life and culture. Does he fit in rather easily? Does he speak Turkish? Why do you think he liked it there?

DY: His girlfriend was Turkish, so I think that's one of the reasons he was here. I think he likes different cultures and likes to know different people. He spoke Turkish a little, only some phrases in an accent that we find a little funny. Music is a big part of our culture. When you walk you can hear Turkish traditional music from everywhere. Also Turkish pop music, arabesque music, rock, hip-hop and every other genre are always in our life.

I advice you to watch Fatih Akin's "Crossing the Bridge" documentary, where he tells about the musicians and music culture of Istanbul. I think Istanbul and Turkey in general is a great place for musicians because music is in the centre of our life. There are other famous musicians who live in Turkey too. For example, Peter Murphy is one of them. By the way, Kevin is not living in Turkey anymore.

Q: You attended Kevin's concert at Istanbul's Balo Stage in 2007. How did he sound? Why do you think it didn't lead to additional concerts as he initially planned?

DY: It was a once-in-a-lifetime concert for all the Chroma Key and Kevin Moore listeners. The sound was absolutely perfect. Kevin is a perfectionist. He worked really hard to make a great sound. I really don't know why the additional concerts didn't happen.

Q: Kevin also did production work for the Turkish industrial rock band, Makine. Since you live in Turkey, can you tell us about the band? How popular are they and their music? Has their CD been released yet?

DY: Makine is a well-known band in Turkish rock scene. They are very popular especially in their hometown Izmir. They play every weekend in Izmir and they pack the place everytime. Also, they won some prizes in well-known national contests. But they still haven't released their album.

What they have done with Kevin was a "pre-production." They were all OSI fans so they wanted to capture that sound with Kevin. But it wasn't a full production process. They didn't record any songs together in a studio, they just worked on the sound, the arrangements and stuff. So I think when the album is released Kevin will be a "mentor," rather than a producer. By the way, Makine is a very cool band which has influences from Rammstein, OSI and Nine Inch Nails. Their website is: www.myspace.com/makine.

Q: What is something about Kevin that most people might not realize?

DY: He likes the English version of "The Office" more than the American version.

Q: What are you working on right now?

DY: I am working at music magazines called Blue Jean and Headbang. The first one is a mainstream music magazine and the second one is a heavy metal magazine. Also, I am working on my new novel and a movie project. But in Turkey, it's very hard to give all your time to artistic projects.

Q: What's in your CD player right now?

DY: In my CD player, there are Faith No More's new best-of CD, Dredg's new album and some Galactic Cowboys albums (to celebrate their reunion). In my iPod, there are a million things. I still listen to OSI's new album, "Blood." I think it's great and very heavy.

Q: Where can fans learn more about your work or purchase your books?

DY: People can visit www.ideefixe.com, which is like the Turkish Amazon. Also, they can reach me if they want on MySpace: www.myspace.com/doguyucel.