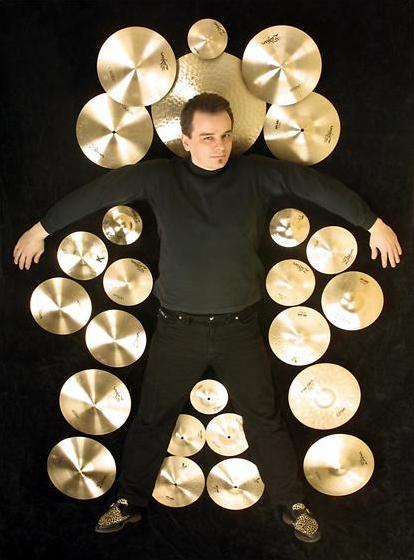 Interview with Gavin Harrison - (May 21, 2009)

Gavin Harrison is best known as the drummer for the British progressive rock band Porcupine Tree, which he joined in 2002, and King Crimson. In 2007 and 2008, he was consecutively named "Best Progressive Drummer of the Year" in readers' polls conducted by Modern Drummer magazine. In 2009, he played on OSI's third studio album, Blood.
Q: How were you first approached about playing on Blood and why did you want to be a part of the OSI project?
GH: Jim [Matheos] emailed me and asked me to do it.
Q: Were you a fan of OSI previously? What were your thoughts on the first two albums? Were you familiar with Chroma Key?
GH: No. I hadn't heard any of their previous material. I knew Steve Wilson [the lead singer for Porcupine Tree] had sung on one of their previous albums - and he told me it was good stuff.
Q: How long did the recording process take for you? Were you ever in the same room with Jim and Kevin, or was it purely emailing files back and forth? If so, was that a challenging way to record?
GH: It took a few weeks over the summer of '08. I was working on another couple of albums at the same time here in my home studio. I've never met or spoken to Kevin [Moore] or Jim, so it purely an email relationship. I've done a load of sessions like that so it wasn't problem.
Q: How much input did you have creatively? Were you presented with a bunch of songs in which the music was already recorded and awaiting drums? Did you strictly follow the demo drums?
GH: Of course, all the songs had a demo drum machine part. But usually I made a note of what it was doing and then turned it off and did my own thing. Sometimes they asked me to "go free" and other times they wanted it closer to the demo part. Sometimes I just had a crazy idea for a part where their demo drums weren't playing, so I tried it and sent it to them anyway.
Q: Talk about the drum parts on "False Start." In various reviews, people seem to be blown away by the drums on that song. What was your approach?
GH: I tried a lot of different patterns for the verse. But in the end the straighter driving pattern that you hear was the right one. Not all the songs had vocals on them when I was working to them, so I had to take their advice about where to play and NOT play too much. The crazy bit at 2:10 was my idea that the drums should make a "rhythmic illusion" and then two-thirds of the way through come back into straight 4/4.
Q: How about "Radiologue"? That seems to be a fan favorite. Talk about that monster of a song and your approach.
GH: It was obvious that the drums just needed to be a big fat groove. There's quite a lot of detail in the programmed percussive sounds, so it didn't need anymore subtle ghost notes from me. The only detail I put in there was some small double bass drum runs.
Q: Looking back, what turned out being your favorite song on Blood and why?
GH: I like all of the songs on the record. But I really like "Be The Hero." I think it was the last one that I worked on. I liked the way it snaked from 5/4 to 4/4, and I tried to keep some ambiguity in there.
Q: So is Blood a one-and-out deal for you? Or might you join OSI for another album down the road?
GH: I'd love to do another one - if I get invited and I'm available.
Q: Was there ever any talk of playing a few live OSI shows? Did you consider convincing Kevin and Jim to open for Porcupine Tree shows later this year?
GH: They have never talked to me about playing live. It would be great to have them open up for PT, but I don't think I could play in both bands in the same night!!!
Q: In an interview earlier this month, Mike Portnoy (the previous drummer for OSI) said that working with Kevin is "not much fun" and that's a key reason why he didn't join OSI for additional albums. What are you thoughts on Kevin in the studio? Do you agree/disagree with Mike?
GH: I didn't have any problems with Kevin or Jim. They were nothing but professional and respectful to me.
Q: How is the recording process going for the Porcupine Tree album? Can you give us any details on the music or album theme?
GH: The album is finished, and it's really great stuff. Maybe our best album yet. But you'll just have to wait to see/hear for yourself.
Q: Are there any other music projects you are working on right now?
GH: Yes. I've just released my second record with 05Ric called "Circles." It's probably the most advanced rhythmical stuff I've composed/played and I'm very happy with it.
Q: What's in your CD or MP3 player right now?
GH: Aaron Parks - "Invisible Cinema"