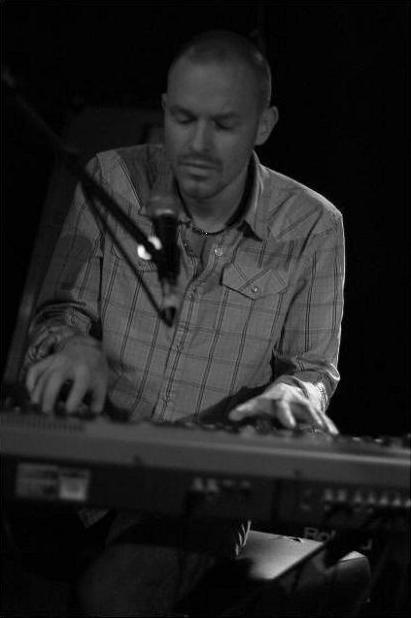 Interview with Roy Harter - (Oct. 1, 2010)

Roy Harter is a composer and music producer best known for his work in television and film. He is the founder and owner of Manhattan-based post-production facility SkinnyMan and the current keyboardist for Dan Donnelly's performing and recording band, Sonovagun. He also hosts a weekly radio show, "Roy Harter's Outlaw Hour," on Tinternet Radio. As a teenager, Harter took private music theory lessons under Kevin Moore.
Q: How and when did you get involved in the music industry? Where did you study and what were some of your early jobs?
RH: I used to spend my summers hanging out at recording studios in New York City. I'd make coffee, run tapes around town, and they'd let me sit in on the sessions. I got to watch recording sessions ranging from Debbie Gibson to "The Cosby Show." I got my first taste for record production when my band Matisse used to record out at Tiki Recording in Glen Cove, Long Island. However, my first professional keyboardist gig was when I started playing for a band on EMI/Chrysalis called Fabulon.
Q: You attended high school on Long Island, New York, just like Kevin Moore and myself, and you currently live here. What are you thoughts on your Long Island roots? Do you feel like it shaped you artistically? If so, how?
RH: Truthfully, even though I went to school on Long Island, I was raised in Queens. I was a commuter. I now live in Manhasset, Long Island, but that wasn't until a few years ago, after my second child was born. As far as my roots and influences, it's impossible for a 12-year-old kid NOT to be influenced by all the local Long Island heroes: Steve Vai, Joe Satriani, Brian Setzer, Blue Oyster Cult, Zebra, LL Cool J, Billy Joel, Twisted Sister, and of course Dream Theater. Pretty much everyone except maybe Mariah Carey. It's funny, I've gotten to record Dee Snider from Twisted Sister as a voice-over artist a few times, and now LL Cool J lives right up the road from me!
Q: You started playing the piano at a very early age. Why did it interest you? Who were some of you early influences?
RH: I didn't start with lessons as early as people think. I was probably around 10 years old. That's considered late by some standards. I personally don't think it's ever to late to start on an instrument. But starting young certainly helps. Talk about getting a good headstart - my 5-year-old daughter has already played a recital at Carnegie Hall!
My earliest influences were ABBA and hair-metal bands. Yes, it's slightly embarrassing, but true. Actually, if you were a hard rock band in the early 1980s with a keyboard player, I was a fan. Guys like Jens Johansson, David Bryan, Kevin Moore, Jan Hammer, and Eddie Jobson were my early synthesizer idols. When I started hanging around the studios, I used to assist Eddie Jobson at is private studio. I guess you could say I've always been interested in what other keyboard players were doing.
Q: Kevin Moore was one of your early piano teachers. Was he your first teacher? How and when did you cross paths with him?
RH: Kevin was not my first teacher, but I consider him one of the most influential. My old neighbor, and fellow rock-keyboardist Ricky Chiarello, pointed out a tiny advertisement for keyboard lessons in a local Long Island music rag. As huge fans of the progressive rock scene, we both recognized his name right away. This was not too long after Dream Theater had released their debut album, When Dream and Day Unite. I nervously called the number and set up a lesson.
Q: Were you a big fan of Dream Theater and Kevin's keyboard work with the band? Tell me your thoughts about his playing on those albums. Do you have a favorite song?
RH: I was a HUGE fan of his playing. At that time in music (late 1980s), it seemed like guitar players were getting all the attention. You can imagine how thrilled I was, as a 16-year-old keyboardist, when I found a keyboardist who can play just as fast and flashy as the best metal guitarist. As my own equipment at the time was very limited (Korg M-1), I was fascinated by his ability to coax guitar-like lead sounds from a synth (Korg DW-8000). I was as interested in having him teach me how he got his sounds, just as much as I was interested in learning about music theory.
Q: Where did you and Kevin study? At your house? How frequently did you get together and how long did the lessons last?
RH: Every Saturday morning at 11 a.m., I had to drive from Bellerose, Queens, to Smithtown, Long Island. That was a long ride every Saturday morning for a one-hour lesson. He conducted lessons out of the basement of his parents' house. He had a small practice room set up there. In retrospect, he probably didn't have that many students, and the band certainly wasn't successful enough at the time, where he could afford a house like that. He wasn't the cheapest lesson in town either! But to me it was worth every penny.
Q: Tell me about the first time you met Kevin. What did you do during the very first lesson? Did he say anything to break the ice?
RH: I remember being a really nervous, awkward 16-year-old kid who was about to meet one of his musical idols. Since this was before the days of MapQuest or GPS, I mapped out my route to his house the night before. I still arrived a little late. He politely invited me in. I think he even introduced me to his parents who were watching TV at the time. We went down to his basement, and he simply started asking me questions about what I wanted to get out of the lessons. I simply told him, I wanted to learn how to play keyboard solos like him!
He had a really simple set up, including his Korg DW-8000, along with a TASCAM four-track cassette Portastudio. I remember it being poorly lit, and LOTS of cassette tapes stacked up against the wall. It also had the slight moldy smell of your typical Long Island basement. It was pretty unglamorous and regular. It was the first time I realized that, it's not about the gear!
Q: What aspects of music theory did Kevin teach you over the course of your lessons? What were his teaching methods? Looking back, was he an effective instructor?
RH: He taught me the basics of music theory, of which I had very little experience. I remember playing a lot of scales in different modes up and down the keyboard. He taught me some flashy licks and runs that he said l could use to impress people.
We also spent a few weeks of him teaching me to effectively use the synthesizer's "pitch-bend wheel" for maximum expression. He had his pitch-wheel set to bend three half tones, whereas most keyboardists set them for two half tones or a full octave. I still use this setup today.
I used to bring him demos of my first band Matisse, and we would work out keyboard solos for them. My bandmates didn't realize that all the amazing keyboard solos I played for them were probably written out note-for-note by Kevin himself!
Q: Did Kevin ever talk about his success with Dream Theater? Did he enjoy the spotlight or was it not his cup of tea?
RH: My tenure with Kevin was really just before Dream Theater had achieved any real commercial success. They were really well-known and admired in certain musical circles, but I never saw him as the party animal rock star. He had a steady girlfriend at the time, which was sometimes at the house. I guess things might have even been a little rocky with the band, as they were in the process of auditioning singers. This was after the release of their first album. I guess this was around 1990-1991.
Actually, I very vividly remember him playing me a demo cassette from a Canadian singer they were considering "collaborating" with. It was from a band called Winter Rose. He even asked me what I thought of the singer. I realize now that I had been privy to hearing the audition tape of Kevin James LaBrie!
He was always willing to answer any questions I had about the band. Because I was playing with Matisse at the time, I was really interested as to how the band wrote and practiced their material. He told me very simply, "We just sit in a circle, and keep playing an idea until it's perfect."
I remember on one particular occasion, Kevin must have "double booked" himself, because as I was arriving for my lesson, he was about to leave for a Dream Theater rehearsal. Rather than cancel the lesson or practice, he simply invited me along! I think we went to John Myung's parents' condo in Kings Park. It was Kevin Moore, John Myung, Mike Portnoy, John Petrucci and myself! I was quietly sitting in a corner watching these virtuosos work out their parts in a Long Island condo living room! When they were finished rehearsing, Kevin must have felt bad, because he then gave me a quick lesson on an electric piano that was set up in John's bedroom. THEN he charged me.
Q: What was Kevin like as a person during your time with him – funny, quiet, etc.?
RH: Kevin was a bit on the quiet side. But he has a great sense of humor.
I vividly remember after a particularly mind-blowing lesson, he walked me back upstairs to his front door to leave. My head was still spinning with the musical secrets I thought he had unlocked for me that morning. I think he might have taught me the harmonic minor scale, and suddenly I could magically sound like Yngwie Malmsteen.
Anyway, I was about halfway down his driveway, as he shouted to me, "Hey Roy, was that lesson worth anything to you?!"
I replied, "Yea man, it was AWESOME! Thanks!"
He calmly repeated himself. "Hey Roy, was that lesson WORTH anything to you?!"
Slightly confused, I shouted, "Dude, it was AMAZING! Best ever so far! THANKS! See you next week!"
He finally replied, "Not if you don't PAY me for this week's lesson!"
In my haze, I had actually forgotten to pay him for the lesson!
Q: Why and when did you and Kevin stop studying together and have you and Kevin kept in touch since then?
RH: I'm not sure exactly why I stopped studying with Kevin, but it was probably due to the fact that Dream Theater were starting to really get noticed, and he didn't have time to do the lessons anymore. This also occurred at the same time as I had landed the keyboardist gig with Fabulon, and it was going to occupy a lot of my free time.
He had invited me to a Dream Theater performance at a small rock dive called Hammerheadz in Hempstead, New York. I knew the small club well, as I had played it a few times with my own band. I think this might have even been the first time they played a gig with James LaBrie. Even though the room was practically empty, I was standing next to Rod Smallwood from Sanctuary Management. I had recognized him from some Iron Maiden videos my cousin Tom had. That's exactly the moment I realized they were going to be huge. I think that gig might have been the first time I heard them play "Pull Me Under." The rest is history.
I've lost touch with him in recent years, but that's also the reason I'm so willing to do this interview. I want him to know that he's had a profound effect on a lot of people's musical journeys.
Q: After studying under Kevin, one of your early gigs was as a performing keyboardist, but you quickly migrated to the studio. Why did you prefer studio work? How did you make the jump to a composer?
RH: I prefer studio work because I now have a wife and family. I'm fairly fortunate that I still have the opportunities to play massive European festival gigs like Glastonbury and am then am able to leave the madness behind and return to my studio and family. Although having a studio in Times Square, is not exactly conjure the image of musical solitude either.
I've really always been a "composer." An advertising client at the studio once asked me to write them a piece of music on spec. They liked it. I got paid and I guess that officially made me a composer.
Q: Tell me about Editional Effects. How did it get started and what kind of services does it offer?
RH: I'm sorry but this is the only question I will not answer. It's a chapter of my past, and I have since moved on. This sounds like something Kevin would say.
Q: Tell me about SkinnyMan. How did it get started and are you surprised at how successful it's become?
RH: SkinnyMan is a creative television and film post-production facility located in Times Square, New York. I founded it once Editional Effects went under. We do creative audio, video, sound design, composing, audio mixing, etc., for some high-profile clients. Lots of stuff for television.
I'm not surprised about any "success" here. We all work very hard at SkinnyMan. The only really successful thing about it is that it enables a bunch of like-minded creative and talented people to have fun at work, while managing to feed their families and pay their mortgages. It sure beats heavy lifting.
You can check us out at www.skinnyman.com.
Q: What are some of the more well known television commercials or TV shows that your music has appeared on?
RH: We currently do A LOT of stuff for cable networks, including MTV, Nickelodeon, USA, FX, Discovery Channel, VH-1, FOX News, Noggin, Nick Jr., TV Land, etc. Basically, if you have cable, there is a pretty good chance that you have already heard some of my handiwork, without even realizing it! That's exactly the way I like it.
Q: In 2003, you released your first solo album, Lover of Beauty and Coffee Breath. What is the style of music and were you happy with the reception it received from fans. Are there plans for a follow-up CD?
RH: Lover of Beauty and Coffee Breath is one of the darkest most evil-sounding records I could make. It's a response to all the happy children's music I was composing at the time. It was just an outlet. I'm really not that dark or angry as a person, and it still makes me laugh at some of the emails I get from people who have heard it.
It's not exactly a commercial success, and is really only known in small synthesizer-geek circles. I've given away more CDs than I've sold. I've still got a box of CDs in my attic, if you want one. My friend Colin Campbell from Radial Nerve said, "It's the kind of music you put on, when you're making love to an ugly woman."
Q: Tell me about your radio show, "Roy Harter's Outlaw Hour"? How did it get started and what is about? What do you enjoy about it?
RH: In the summer of 2006, I was playing an outdoor festival in England as part of Dan Donnelly's band, Sonovagun, and I got friendly with some of the press people who were conducting the artist interviews. I hit it off particularly well with Roy Sandbrook, who runs Red Carpet Radio (www.redcarpetradio.com) in the UK. Roy and his wife Debbie have always been huge supporters of Dan Donnelly and of live music, so I jokingly suggested that I should have my own show, and they took me up on it! My hour-long show airs every Sunday night at around 5 p.m. in New York time.
But don't expect to hear any Dream Theater. It's actually a loose format outlaw/rebel Americana show. It's basically just a laugh, and I've gotten to meet some pretty awesome folks because of it. All the folks over at Red Carpet Radio are REAL music fans, so it's been fun.
Q: Currently, you also play keyboards for Dan Donnelly's band Sonovagun. How did you get involved in that and what do you enjoy about the music?
RH: Dan Donnelly is the hardest working, talented, and genuinely musical artists that I have ever had the honor of working with. He's opened up a tremendous amount of musical doors for me, and personally I love him like a brother. He's the real deal. I've seen Dan entertain a festival crowd of 120,000 people just as fast as he would rock a back-garden BBQ with 15 people. It's just what he does, it's all he knows, and he's the BEST at it. We've had some great adventures together. His touring stories will blow your mind.
I first met him back in the early 1990s as he was touring through New York with his old band, Watercress. We hit it off back then, and have been helping each other out since then.
He really just writes great songs. In my youthful days, I was all about the "chops" and "licks," and because of my long-term involvement with Dan and Sonovagun, I've wised up and learned how best to serve "the song." I'm now mature and tasteful enough to know when NOT to play. I owe that to Dan Donnelly.
Q: What accomplishment/awards are you most proud of regarding your music career?
RH: The awards don't mean shit to me. I've gotten enough industry accolades to know that they don't really matter. Some of my best work will never see the light of day. I'm just happy to be able to support a family doing this. I get to hang and work with some pretty talented people. We have a good time here at SkinnyMan, and every day at this circus is exciting.
Q: Getting back to Kevin, you obviously had a serious interest in getting involved in the music industry while studying under Kevin. Do you remember him sharing any helpful advice about life in the music industry?
RH: Not particularly, but that was also a very different time in the music industry. The main goal of every emerging recording artist back then was to "get signed." Now it's the exact opposite! Having a major record deal is the worst thing for a band to have! It's a glorified bank loan. My hat goes off to all the bands and artists who are making it happen without any sort of corporate machine behind them. All of us at SkinnyMan share a very similar aesthetic.
In retrospect, Kevin was very aware of the true nature of this industry, and as a true artist, realized that he doesn't want anything to do with it. I really respect his decisions and choices. His desire to "move on" should be respected. I used to think he was crazy, but now I realize he's had it figured out this whole time!
Q: Did you get your hands on any Kevin Moore or Dream Theater memorabilia that might interest fans?
RH: That all depends how big a fan they are! I've got some old music notebooks with transcribed solos and boring theory lessons that he wrote out for me. And for the REAL fans, I've bottled and stored up a few gallons of Dream Theater sweat that I'd be willing to let go for cheap.
Q: Have you followed his music after Dream Theater? What are your thoughts on Chroma Key and OSI?
RH: Honestly, I've been so busy with my own career and family that I haven't really had the time to follow up with Kevin's career. I'm fairly certain that he's not wondering, "Whatever happened to that weird kid who used to pay me to hang out in my basement?"
I did get a chance to hear the Chroma Key record through my friend Ricky, and I really liked it. Kevin has always had a tremendous sense of melody.
I remember him teaching me some chord progressions that he was working on, and they were actually really "jazzy." He asked me play a lead over his chord progressions, and I told him, "I can't play jazz." He then told me to simply solo in E pentatonic over his bizarre chord patterns, and it worked brilliantly. He had a way of really demystifying a lot about music.
He also taught me a lot about various time signatures. I think I read a story once about how Keith Emmerson was able to play 5/4 riffs with his left hand while drinking a beer with his right. Because of Kevin, I can do that now too! I just choose not to.
Q: Tell me something that Kevin's fans might be surprised to know about him.
RH: At the time I studied with him, he was REALLY into Peter Gabriel's score, Passion: Music for the Last Temptation of Christ. I mean obsessed. This might not surprise any of his fans now, but it sure surprised me as a 17-year-old aspiring heavy metal keyboardist!
Lesson here is to KEEP YOUR MIND OPEN! It's ALL good.
Q: What projects are you working on right now?
RH: At this very moment, I am wrapping up a Broadway musical-style spot I composed and mixed for Denny's. I am submitting a bid on a Hugh's Pamper commercial that might involve reggae artist Ziggy Marley. Tomorrow morning, I am booked to do a record and mix for The Wall Street Journal. I am about to play keyboards on a solo record for an Irish artist, Colm O' Snodaigh, who plays with a fairly successful band called Kila. I am also waiting to hear the demos for the new Dan Donnelly and Sonovagun record that I will be playing on.
In my free time, I have also been working on another Roy Harter solo album that will be very different from the last instrumental one. I'm collaborating on an audio-visual piece with Turkish artist Murat Pak at www.undream.net.
It's never ending. I'm just happy to be busy, mixing and making noise.
Q: What artists/bands are you listening to at the moment?
RH: My hardcore prog rock days are really behind me. My musical tastes are as varied as you can get. Lately, I find myself especially enjoying music that has been written by people I know personally or consider my "mates." I'm big fans of: Dan Donnelly (www.sonovagun.com), Adrian Henke (adrianhenke.com), Ben Lucas Boysen (www.hecq.de), Damien Dempsey (www.damiendempsey.com), Cashier No.9, (www.myspace.com/cashierno9), Radial Nerve, (www.myspace.com/radialnerve), Colm O'Snodaigh (www.myspace.com/colmsnodaigh).
As far as rock keyboardists are concerned, Geraint Watkins, Spooner Oldham, and Rob Schwimmer are tops in my book right now. As far as record producers, I'm currently really into Daniel Lanois.
Feel free to add me on Facebook or MySpace if you're curious: (www.facebook.com/royharter), (www.myspace.com/royharter) and(www.skinnyman.com).
If you just want a laugh, check out my "progressive" alpine bell project at www.alpinebells.com.