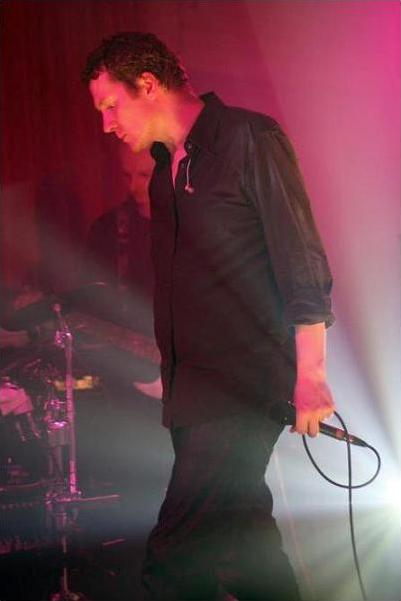 Interview with Tim Bowness - (July 10, 2009)

Tim Bowness is a singer-songwriter best known for his work as part of the band No-Man, a longtime project with Porcupine Tree's Steven Wilson. He is also a co-founder of the online record label, Burning Shed. In May, Bowness appeared as the guest vocalist on "No Celebrations," a song on the bonus disc of OSI's third studio album, Blood.
Q: How and when did you first get involved in the music industry? Where did you study and what were your early music jobs?
TB: I had a strong interest in music from an early age. Typically, it was an escape from a pretty miserable adolescence. After half a decade or so of being in a variety of bands, I got my first professional contracts (with No-Man) in the early 1990s with indie label One Little Indian, Epic/Sony in America and Hit & Run Publishing. This enabled me to abandon the office and care work I'd previously done
and concentrate on music full time.

My music job has primarily been as a musician/vocalist, although I have done freelance PR for companies such as Kscope and Voiceprint in the UK and my own online company, Burning Shed (www.burningshed.com).
Q: How did you get involved with OSI?
TB: My main band No-Man is a collaboration with Steven Wilson of Porcupine Tree, so my point of entry was hearing the first OSI album which Steven sang on.

I really liked it and after hearing it, I got in touch with Kevin and Jim [Matheos] regarding Burning Shed creating an official OSI shop.
Q: Were you previously familiar with Kevin Moore's music with Dream Theater and Chroma Key? What was your opinion of it?

TB: No. After setting up the OSI shop, I got to hear Chroma Key, Fates Warning and Jim's solo work, and was very impressed with the production quality, idealism and diversity of styles. I've still not heard Kevin's albums with Dream Theater, but I liked Ghost Book and all the Chroma Key albums I got to hear. I guess my initial impressions of Kevin were that he was an extremely talented musician with a genuinely adventurous and tasteful approach to what he does.
Q: What was your opinion of the first two OSI albums, Office of Strategic Influence and Free? Why was this a project that appealed to you?
TB: I liked both in different ways. I really liked the textures and the long-form pieces on Office of Strategic Influence, while I was very impressed by the directness and more raw sound of Free. Overall, I like the fusion of electronic and metal elements and feel that OSI are making a genuinely contemporary and adventurous rock music, which, unfortunately, isn't too common.
Q: Tell me about the song, "No Celebrations." Did Kevin and Jim offer you a handful of songs to choose from or did they specifically ask you write and record vocals to that song?

TB: The latter. When Blood was in preparation, we did discuss the idea of me being on the album, but Kevin and Jim didn't hear anything they thought was right for my voice. I was sent the backing track for "No Celebrations" after the album had been completed. I think it was always intended as a song for the bonus disc. I think I was sent it because Kevin didn't have any vocal ideas he was happy with for the piece and also because Jim thought it was a pretty radical choice of song to send to me (being different from anything else I've done).
Q: What was the recording process? Did you ever meet Kevin and Jim or was it purely an email relationship? If so, was that challenging?

TB: It was purely an email relationship. I got sent the backing tapes and did the vocal recording in my home studio in the UK.
Q: Were the vocals finished on the first take? Or was there a lot of back-and-forth with Kevin and Jim? Did they make any specific vocal requests?
TB: It was a pretty quick process. I tried out a couple of different approaches using essentially the same lyrics/melody and then asked Jim and Kevin what they thought. They outlined their preference and also suggested I drop some lines near the end. I then went back and recorded the vocals from scratch. I tend to record three vocal takes and choose between the takes to create the master take.
Q: What are the lyrics about? Can you give us some insight into your thought process?

TB: This may sound a bit odd, but I think in some ways it was a reaction to the current global financial collapse. That's what comes to mind in the chorus, I think.

At it's most basic level, it's about a paranoid individual whose life is falling apart and who feels that they're about to be found out as being a phoney. It's about the character feeling that the world and other people are progressing, while they feel unable to move on.
Q: In some online message boards, your fans were surprised and pumped to hear your voice in a metal song. Did you consciously want to experiment in that sound and do something different? What kind of feedback have you gotten about it?
TB: Really good. I was pleased to be asked to do such an atypical song and I enjoyed the challenge of trying to make it sound appropriate. I didn't mess around with the sound of my voice, but I tried to give a the song a different attitude from most of what I do. Through the years, there have been some aggressive moments in No-Man, so it wasn't wholly out of character, although I've never really sung metal before.

I've had people contact me via MySpace and also been sent positive responses to the piece from the likes of Last FM and Amazon. I've been really pleased with the reactions.

Q: Who made the decision to include the song on the Blood bonus disc and not on the regular CD? Did you know ahead of time it would only be a bonus song?
TB: I think it was always planned as a track for the bonus disc. I was approached in January this year, by which time I think Blood had already been completed. I'm pretty sure Jim and Kevin were looking for pieces for the bonus disc.

Q: Most OSI fans know you from your work with No-Man with Porcupine Tree vocalist Steven Wilson. How did you and Steve Wilson first meet?

TB: Steven contacted me in 1986 with a view to me appearing on a compilation album he was putting together. I started writing with Steven in 1987 and we hit it off straight away. We wrote two very diverse songs within the first couple of hours of meeting one another.

The relationship had great chemistry from the start and I believe that Steven still brings something out in what I do that no-one else does and vice versa. The name No-Man was chosen in 1990 to coincide with the release of our debut single, "Colours."

Q: No-Man recently released an EP called Wherever There is Light. Tell me about that disc. What should fans expect?

TB: This was intended as a bridge between the last studio album (2008's Schoolyard Ghosts) and the forthcoming double DVD, Mixtaped. It features a track from Schoolyard Ghosts, two new studio pieces and two live tracks from Mixtaped. I think the live band may surprise some people with its atmospheric, yet powerful approach to the music.

Q: What is next on No-Man's agenda? A DVD release of the London show from last year?

TB: It's going to be on a double DVD called Mixtaped. Disc 1 will consist of the concert, while disc 2 will consist of a documentary called Returning. There should be plenty of extras on there as well.

Q: What was it like to play some shows last summer? According to reports, it was your first No-Man shows in 15 years. What made you guys want to get back out there?

TB: We hadn't gigged since the release of our first album, Loveblows & Lovecries, in 1993. We'd been a regular gigging band between 1989-1993, but became a little disillusioned with the experience of playing so many inappropriate venues. We stopped until more suitable venue offers came up. It took a while!
We were very pleased with our sixth studio album, Schoolyard Ghosts, and felt it would be good to mark its release in some way special. Overall, it was an incredibly enjoyable and inspiring mini-tour and I'd love to get the band playing live again.

Q: What other projects are you working on at the moment?
TB: I've just finished co-producing and co-writing an album for ex-Fairport Convention singer, Judy Dyble. It has a great guest list (including King Crimson's Robert Fripp, Pat Mastelotto and Ian McDonald) and I mainly appear as a backing vocalist, although I play guitar on one track.

I'm also working on a collaboration album with Italian musician, Giancarlo Erra. The band is called Memories Of Machines and it has a more stripped-down, singer-songwriter approach than No-Man.

Q: Getting back to OSI, what are your thoughts on the Blood album as a whole. Any favorite songs?
TB: For me, Blood fits somewhere between the more textural OSI and the harder hitting Free. Gavin [Harrison]'s contributions are very strong and perhaps make this something different from either of the preceding albums.

I think it's got a coherence that makes it work as a complete album experience, so I wouldn't really want to single out individual tracks. It's probably my favourite album along with the debut.

Q: As a vocalist yourself, what is your opinion of Kevin's vocal style and why does it work in OSI music? What do you think of his lyrics?

TB: Vocally, I very much like the fact that Kevin completely eschews rock stereotypes and cliches. I think he gives the music a sense of cool and atmosphere, which is essential to the unique OSI sound.

Lyrically, I like his less is more, enigmatic, style, which is something I definitely have an affinity with.

Q: Do you plan to work with OSI again in the future, or was this a one-time deal?

TB: I'd love to work with Jim and Kevin again, whether as OSI or otherwise. "No Celebrations" is totally unlike anything I've done before, so it was extremely enjoyable to work on.

Jim's appearing on a track on the Memories Of Machines album, and I would certainly like to work with both Jim and Kevin on something more substantial.

Q: What is in your CD player right now?

TB: As I love good packaging, I still regularly buy CDs, although I listen to everything on my iPod. I'm always listening to several albums in any given week by artists past and present.

In the last few days, I've listened to Joanna Newsome's Ys, Nick Drake's Five Leaves Left, Portishead's Third, Paul Simon's The Paul Simon Songbook, Steve Reich's Tehilim, King Crimson's Islands and Brian Eno's Another Day On Earth.